I think Sotherly Hotel (NASDAQ: SOHO/SOHON/SOHOB/SOHOO) common and preferred shares present an attractive risk reward today. Travel to drive-to, upscale, southern U.S. destinations should be red hot this summer, and I believe over the longer term will also settle in at structurally higher levels given increased knowledge worker location flexibility. The preferreds create the entity at ~$160K/key which is too low vs. both replacement and comparable comps, and the common could see $0.80+/year in AFFO which means they currently trades at 2-3x AFFO. The prefs should be worth par+accrued, (~$29.50) or about 70% upside from today's levels and the common could be worth $5-$10/share or about 300% at the midpoint though the distribution of outcomes is fairly wide. I'd expect that there'll be material pushback on the impact of a potential recession on hotels generally, but the valuation is compelling and a recently completed hotel sale and refinancing of their Tampa hotel bolsters the balance sheet.
Macro backdrop is quite favorable
Let me outline the macro bull thesis for hotels:
Demand, especially for drive-to leisure destinations and for the upper end of the hotel spectrum, will ultimately settle at a structurally higher level. There's an increased ability for some workers to work remotely (see: TikTok product managers), which will make extended weekend getaways possible where they didn't make much sense previously. Moreover, there should also be more business travel as more remote workers result in more visits to corporate headquarters.
Supply is currently constrained due to a couple reasons. One, I suspect that there was a pause in new hotel construction because of higher labor and material costs and likely few were willing to finance hotel projects in 2020. Two, some hotels were actually shutting down and being converted to other uses like affordable housing.
Inflation generally should benefit existing hotels. Room rates reprice daily, while mortgage interest rates are often fixed over many years. Of course, stagflation could be a problem, though at the upper upscale hotel class higher gas prices should impact demand less.
And currently, *knocks on wood*, the worst of the pandemic-induced economic drag on the travel industry is well behind us. There also should be a huge summer 2022 domestic travel season (I see your social media vacation pics!).
Recent results from STR is supportive of this view, revenue per available room (RevPAR) has been 5-10% higher than 2019 levels in the past two weeks.
Raleigh hotel sale and Tampa refinancing materially derisks the situation
One reason why the Sotherly prefs and common is interesting today is that Sotherly completed its previously announced sale of its Raleigh hotel to a student housing buyer on June 14th and extended its Tampa hotel mortgage by 3 years with ~$8M more in principal and at a lower interest rate on June 29th. The sales price for the Raleigh hotel is $220K/key, well above my previous $100K/key estimate for the property and the $164K figure for the remainder of the portfolio needed to cover the prefs at par+accrued. Further, if you look at the portfolio, this hotel had the 3rd lowest RevPAR in 3Q:21 and the 4th lowest in 1Q:22. Net of the mortgage, we should see about $20M of cash inflows due to Raleigh, which along with cash on hand and the $8M in additional cash from the Tampa mortgage will allow them to pay off their $20M in stressed COVID financing completely.
Asset-based valuation demonstrate preferreds should be money-good and material upside for the common
Sotherly hotel's portfolio fits particularly well with the current themes: upscale to upper upscale hotels that are in predominantly leisure, drive-to destinations in relatively built-up southern cities. Below is my rough valuation of each of the hotel properties using a rudimentary price/key valuation metric (see Appendix A for more detail on 4 most valuable properties). Note that I have left out the two condop hotels that Sotherly also owns which should be worth something as well.
The above valuation would get to roughly an enterprise value that would comfortably cover the preferreds at par+accrued, so those should be money-good.
Now for the common, we can take the $680M in asset value and subtract out $460M in EV through the prefs which would give us the remaining value to the equity of $220M, which would be over $11/share with about 19M shares out. Is this too high? Definitely debatable, but I think if you look at current comps the price per key assumptions aren't unreasonable.
AFFO sanity check supports equity valuation
I want to try my hand at a rough AFFO valuation as well in the table below. We know that RevPAR improved throughout 1Q:22, with March 2022 actually slightly eclipsing March 2019 RevPAR. If we assume 1Q:22 revenues to be equal to 1Q:19, it implies around $0.21 in incremental AFFO or about $0.26 pro forma, which annualizes to about $1/year. Applying an 8x multiple, this implies a common equity valuation of around $8/share or more than 300% upside. I realize run-rating will be slightly problematic because going forward SOHO will have ~400 fewer rooms but that should hopefully be offset by the fact that RevPARs have continued to improve vs 2019, 1Q is a quieter quarter, and also by using a lower AFFO multiple.
Broader hotel transaction market is red hot
The underlying fundamentals currently look pretty darn good, with the most recent STR projections forecasting 2022 RevPAR to exceed 2019 RevPAR by 7% and for an extremely strong 2023 as business travel returns.
The transaction markets are also red hot, I'll just do a link dump here if you're inclined:
Interest rate setup for SOHO is favorable
An investment's performance in an increasing rate environment is determined in part by the structure of its balance sheet. A good hedge against inflation would be assets that can match inflation combined with fixed rate debt with term. Sotherly's mortgages are about 80% fixed (see graphic below), and fortuitously, most of the fixed rate mortgages has longer term compared to the floating rate mortgages. Out of the 3 remaining floating rate mortgages (remember Raleigh just got sold), Tampa was just extended with Fifth Third Bank to mature in Jun '25 and the other two mature on Feb '23 and Oct '23. 3-month LIBOR has gone from 0.2% at the beginning of this year to 2% today and current rates are at around 5.50% for hotels though Tampa was just refinanced at around 4.4% (1.60% SOFR +2.75%). Eyeballing it, refinancing today would add at most $0.10/year in incremental interest expense. It's not immaterial, but you still get a ton of leverage off of the fixed rate debt which are now all at below market rates.
Summary
I think this is fairly straightforward: I believe the asset value comfortably exceeds the preferreds at par+accrued, and it's also reassuring that the covenants for the prefs are fairly well written (see Appendix B). Also, transaction comps are nuts right now so it would seem that worst comes to worse even in a liquidation scenario significant value would trickle to the common shareholders and make preferred holders whole. With the way things are going, the preferreds should comfortably be 70% higher, while the common has a very asymmetric payoff with more than 300% upside based on earnings power. Yes there's risk of a travel slowdown, particularly if energy costs continue to stay high (or rise further), though I do think travel is currently high on people's priority lists and will remain so due to the Instagramification of American culture (beach pics>Peloton pics). Finally, it's unclear to me if ADRs can stick at today's elevated rates, though some of it surely is driven by inflation.
Long a mix of prefs and common, heavier on the common. Thanks to @alluvialcapital for his writeup sparking the idea years ago. Thanks to @SomeHotelGuy for color on the industry. A hat tip to @GSRevelator and @MSVCap for their continued collaboration on due diligence on this name.
—
APPENDIX A: Top 4 Sotherly Hotels
As promised, here's an asset-by-asset of the top 4 properties. There are obviously problematic assets as well (most notably the Arlington/Washington D.C. hotel which is also subject to a ground lease) but because most of the financing is non-recourse mortgage debt with no cross-collateralization it really becomes an exercise of scoring "points" for assets worth more than their mortgage debt (e.g.: could walk away from D.C. hotel if absolutely necessary).
DoubleTree Resort Hollywood Beach (Ft. Lauderdale, FL)
Sotherly's Miami-area 4-star hotel has 311 rooms and faces the bay. Sotherly held a 25% stake and subsequently bought out Carlyle Group's 75% stake in August 2015 for $296K/key. Florida and Miami in particular have been red hot for domestic tourism. Notably, Pebblebrook REIT bought Margaritaville (which is about 2.5 miles due north) for $732K/key in mid 2021, a 50% increase over when the property last transacted in 2018 and the Diplomat Hotel which is within walking distance just transacted in 1Q for $850K/key. While both properties are clearly superior, I think that $500K/key may be reasonable at 66% above 2015 levels. Crypto, though…
DeSoto Savannah Hotel (Savannah, GA)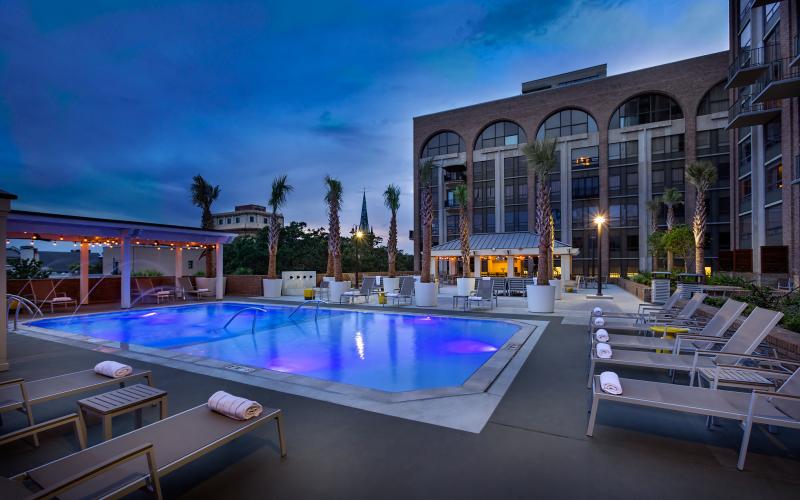 The 4-star DeSoto is in another white-hot tourist locale, Savannah. It looks to be in the midst of a beautiful neighborhood as well with all those pretty park squares. It has the rates to match, with hotel rooms going for $300+/night currently on weekends. In 1Q:22, the better located (and nicer) Alida Hotel changed hands for $595K/key.
Hotel Ballast Wilmington (Wilmington, NC)
This is a 5-star hotel and is about 11 miles from the beach and right on the river in downtown Wilmington. It's a bit of a challenge to find comps but a Holiday Inn Resort on the beach sold for $164K/key in December 2020.
Georgian Terrace Atlanta (Atlanta, GA)
The Georgian Terrace is somewhat surprisingly just a 3-star hotel, despite a gorgeous interior. It's immediately across from the Fox Theatre (which reopened July 2021). Element Atlanta Buckhead recently sold in July 2021 for $232K/key. Granted this is an extended stay hotel, but if you look at the rates Georgian Terrace is about 30% higher and it's also 6 miles outside of downtown.
APPENDIX B: Preferred equity terms
There are a couple of protections to look for with preferred equity in particular:
SOHO's preferreds have a change of control provision which grants each shareholder the right to convert their preferred shares to common shares (subject to a cap of around 8.5 common shares/preferred). While there is a remote chance of a "take-under", I'd assume most acquisitions would be done at a higher price than the ~$3 implied "breakeven" price of a preferred conversion (and in any case I don't think it's likely SOHO will be sold).
SOHO's preferreds cannot have their terms adversely changed unless they vote to agree as a class.
I've seen cases where each of the above two rules would have helped preferred shareholders in recent years, so these covenants are definitely reassuring.